Effective, Efficient, and Environmentally Friendly
Pest Control Service for your home and business.
Prompt
Prepared
Professional
OUR INDUSTRY-LEADING MONEY-BACK SERVICE GUARANTEE IF YOU ARE NOT SATISFIED WITH OUR SERVICE!
ONLY FULLY TRAINED, LICENSED, AND CERTIFIED TECHNICIANS TO SERVICE YOUR PROPERTY!

OUR MATERIALS SELECTED FOR LOWEST RISK TO NON-TARGET ORGANISMS, LIKE PEOPLE, PETS AND POLLINATORS AND VERIFIED BY OUTSIDE AUDITORS.
BOSTON, MA PEST CONTROL, TERMITE & TICK TREATMENT - GREENHOW
We Say What We Mean And Verify What We Say.
CUSTOMER REVIEWS
What our customers have to say about GreenHow
Sean Grenhow has without doubt the best of business ethics. He came on time. He was intrepid in finding the problem, did a thorough search, gave me lots of information – and good news- charged me not one penny and left after a good 20-25 minutes. I recommend him and his extremely knowledgeable service wholeheartedly.

- Alexandra H., Newton, MA

…the best experience of my life in calling an exterminator. Sean is a great guy. Honest. Avoids toxins. Smart. GreenHow is what you should want to deal with pests.

- Max, Cambridge, MA

I have kids and pets so I wanted to avoid the crazy chemicals while still getting rid of the ants that had raided the cat food bowl and then made them selves at home in our bathroom. GreenHow was easy to deal with, prompt, and quickly found the source of my ant problem… and got rid of the ants. They are now my pest control company of choice!

- Michael K., Arlington, MA
OUR SERVICES
Your family deserves the best pest control service around. A local leader in pest control. The only company in Massachusetts to have both industry green certifications. An industry leading, no nonsense money back guarantee. What problem do you have that we can solve?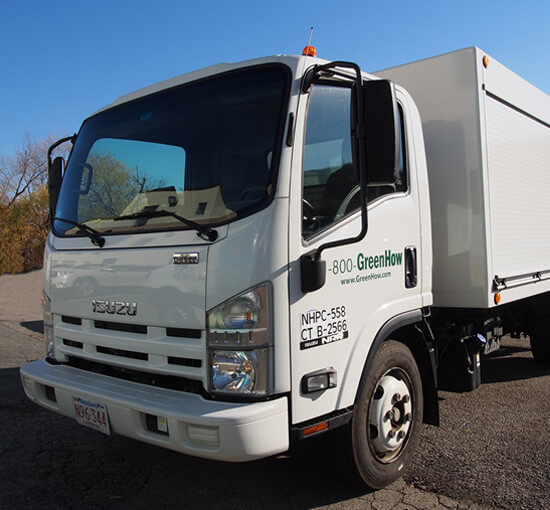 SERVICE, EXPERTISE & INTEGRITY
Welcome to New England's family and locally owned pest control, termite control, lawn and plant health care company! We love nature, but not when it invades your property. Greenhow is our name and how we do business. Let Greenhow solve your pest and termite problems. Let Greenhow make your lawn and ornamental trees and shrubs be the best they can be. You know why we are the how. We are glad you found us!
Greenhow Pest Control is locally owned and built on a reputation for unmatched service, knowledge, and professionalism.
Boston-based – serving all surrounding communities.
Commitment to an unequaled level of service.
Organic, green, and low-impact solutions.
Free estimates and consultations.
Extensive pest control, as well as plant and lawn expertise.
ABOUT US
GREENHOW COMPANY CORE VALUES
These values guide how we work with customers, team members, and vendors.
COMMUNITY FOCUSED
As a locally owned family business, our team is integrated into the fabric of our community. We deliver the highest level of service available in pest control and lawn care with the least negative impact to make our customer's properties better. We take pride in working, living, and being a part of the communities we serve.
ACTION ORIENTED
We continuously take action to improve our knowledge, equipment, and service procedures to make our customer experience better than ever.
RESULTS DRIVEN
We are driven by the results. Customer satisfaction, customer referrals, and customer growth drive what we do.
EXCELLENT SERVICE
Excellent service is what we strive to provide every time. Protecting people's property and making their lawns and ornamentals look great. This is what we do. It feels good to leave someone's property after you solved an issue for them.
CERTIFIED IN ORGANIC & LOW IMPACT SOLUTIONS
WHY CHOOSE GREENHOW PEST CONTROL SERVICES
Our industry leading 100% money back guarantee means doing business with us is easy.
OUR GUARANTEE
A best in the business guarantee makes it easy to do business with Greenhow.
We value your trust and the opportunity to service your property. Your satisfaction is guaranteed or we will refund your last service charge and work to correct the issue to your satisfaction. A simple phone call ( or email, or letter, if you prefer) is all that is needed to utilize the guarantee.
Our Ecological Commitment
Our ecological commitment makes you feel good about doing business with Greenhow.
At our offices and on the road, we commit to reducing the amount of resources it takes to bring our solutions to you. That means eliminating paper use wherever possible and reducing electric and fuel consumption. That means designing service routes that are as efficient as possble and using the most fuel efficient service vehicles. Whether we are in our office or your home or business, our commitment is to save resources and source supplies locally.
Read More